Tone Wheel and Tone Cabinet Service Company - Our Carillon


Tone Wheel and Tone Cabinet Service Company
Tone Wheel and Tone Cabinet Service Company
The Schulmerich Digital MkIII Embassy Carillon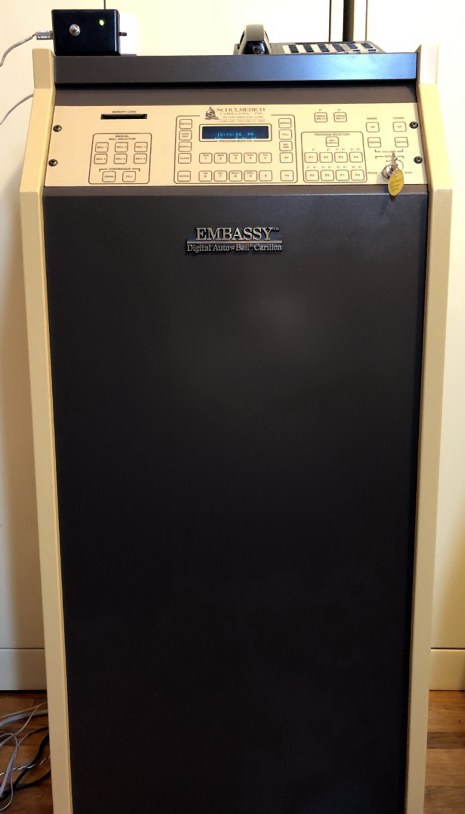 The Schulmerich Digital MkIII Embassy Carillon
This Carillon Plays 7 days a week 4 times a day.
The Westminster Clock strike is produced by
Schulmerich's Digitally Sampled
6 Bell Liturgical Player
The Westminster Cast Bells are heard
at
9:00 am, 12 noon, 3:00 pm and 6:00 pm
Pacific Standard Time.
A Musical Selection is played everyday at 3:00PM PST
following the Westminster Clock Strike.
You can now dial-up and hear the Carillon over your phone!
Call 310-643-6656 Extension 125.
If you dial in approximately 1.5 minutes before the hour
at one of the times indicated above,
you will be able to hear the full Westminster Chimes,
and a music selection. There is an approximate 45 second delay between
the end of the Westminster hour strike and the beginning of
the music selection for the hour.
The Carillon plays ONLY at the times specified above.
Music selections are played following the hour strike
at 3:00 pm
Music Programming Is from the following
Schulmerich AutoBelCards
Rodgers and Hammerstein #828-4

English and Harp




Climb Every Mountain

Edelweiss

Younger Than Springtime

Carousel Waltz

Do-Re-Mi

People Will Say We're In Love

Hello, Young Lovers

Many A New Day

Getting To Know You

Whistle A Happy Tune

Out Of My Dreams

You'll Never Walk Alone

Classical Selections #908

Cast and Harp




Barcarolle (Tales Of Hoffman)

Traumeri

Prelude, C Minor

Theme, Piano Concerto No. 1

Theme, Symphony No. 1

Melody In F

Air for The G String

Poeme

Adagio (Moonlight Sonata)

Etude No. 3

Libiano (La Traviata)

Classical Selections #909-4

English and Harp




Prelude, A Major

Hungarian Dance No. 5

Serenade

Last Rose Of Summer (Martha)

Reverie

Evening Star (Tannhauser)

Spring Song

Theme, Second Movement, 5th Symphony

Theme, Second Movement, 7th Symphony

Who Is Sylvia




Classical Selections #911

Cast and Harp




Jesu, Joy Of Man's Desiring

Slumber Song

Humoresque

None But The Lonely Heart

Pavene

Songs My Mother Taught Me

Liebestraum

Fur Elise

Walter's Prize Song

(Die Meistersinger)

Symphony In G Major Theme

To Spring

Irish Tunes #943-2

Flemish and Harp




When Irish Eyes Are Smiling

Kerry Dance, The

My Wild Irish Rose

Londonderry Air (Danny Boy)

Wearing Of The Green, The

Killarney

I'll Take You Home Again

Rose Of Tralee, The

Mother Machree

Believe Me If All Those...

Too-Ra-Too-Ra-Loo-Ra




Beatles Songs #993-2

Flemish and Harp




Michelle

P.S. I Love You

From Me To You

Here Comes The Sun

Yesterday

Lady Madonna

I Wanna Be Your Man

I Will

Something

I Want To Tell You

Goodbye

I'll Follow The Sun

American Spirituals #1024-2

Flemish and Harp




Nobody Knows the Trouble I've Seen

Roll, Jordan Roll

Swing Low, Sweet Chariot

Ev'ry Time I Feel The Spirit

Go Down Moses

Sometimes I Feel Like A Motherless Child

Steal Away

Were You There

Deep River

I'm A Rolling

There Is A Balm in Gilead

Listen to The Lambs

Popular Selections #1045

English Only




Star Wars Theme

The Entertainer

Romeo and Juliet Love Theme

Through The Eyes Of Love

Aquarius

You Are The Sunshine Of My Life

Chariots Of Fire, Theme

Feelings

New York, New York

Close To You

Cabaret

Send In The Clowns

Irving Berlin #1138-4

English and Harp




Say It With Music

Always

Blue Skies

Count Your Blessings

A Pretty Girl

Alexander's Ragtime Band

What'll I Do

You're Just In Love

They Say It's Wonderful

Sisters

Russian Lullaby

Cheek To Cheek




Spring Reflections #1159

Cast and Harp




To Spring

April Showers

Apple Blossom Time

Raindrops Keep Fallin' On My Head

Voices Of Spring

April In Paris

Singing In The Rain

Spring Song

It Might As Well Be Spring

A Garden In the Rain

Younger Than Spring Time

American Spirituals #1024-2
Flemish and Harp
Nobody Knows the Trouble I've Seen
Roll, Jordan Roll
Swing Low, Sweet Chariot
Ev'ry Time I Feel The Spirit
Go Down Moses
Sometimes I Feel Like A Motherless Child
Steal Away
Were You There
Deep River
I'm A Rolling
There Is A Balm in Gilead
Listen to The Lambs

Key Words: Aphex Aural Exciter Big Bottom Channel Optical Big Bottom Headpod 4 Compeller 320D IN2 IN 2 120B Distribution Amp 124B - Two Channel Level Interface 141B Eight Channel D to A Chase Organs Willis Chase Lancaster Calfironia Westchester Studio City Long Beach Riverside San Bernadino Hollywood North Hollywood West Hollywood, Bel Air, Westwood Century City, Brentwood, Castellammare, Pacific Palisades, Ocean Park Norco, Home Gardens, Corona, El Cerrite, Glen Ivy Hot Springs Rancho Park, Cheviot Hills, Palms, Culver City, Mar Vista, Venice, Marina Del Rey, Playa Del Rey Bell Gardens, Downey, Santa Fe Springs, Pico Riveria, Whittier, East Whittier, La Habra, Norwalk, Bellflower, Cudahy Alhambra, San Gabriel, South San Gabriel, El Monte, Monterey Park, South El Monte, Rosemead, Montebello, Pico Rivera, East Los Angeles. Sunland, Tujunga, La Crescenta, Burbank, Verdugo City, Montrose, Glendale Bradbury, Monrovia, Duarte, Asusa, Glendora, Citrus, Irwindale, Vincent, Charter Oak, Covina, Baldwin Park, West Covina, West Puente Valley, Basset, Valinda, City of Industry, Walnut, South San Jose Hills, Hacienda Heights, Rowland Heights Niland, Calipatria, Elmore, Kane Spring, Westmoreland, Alamorio, Brawley, Imperial, El Centro, Holtville, Meloland, Date City, Plaster City, Dixieland, Seeley, Heber, Mount Signal, Calexico, Calexico International Airport, Bonds Corner Keenbrook, Lytle Creek, Verdermont, Muscoy, Fontana, Rialto, San Bernadino, Cal State San Bernadino, Arrowhead Springs, San Manuel Indian Reservation, Patton, East Highland, Highland, Colton, Bloomington, Crestmore, Grand Terrace Cerritos College, Cerritos, North Long Beach, Lakewood, Artesia, Bixby Knolls, Hawaiian Gardens, Long Beach Airport, Los Alamitos, Signal Hill, California State Long Beach, Rossmoor, Long Beach, Seal Beach, Leisure World, Belmont Shore, Naples, Westminster, Edinger, Seal Beach, Orange Co. Mount Olympus, Hollwood Atwater Village, Los Feliz, Silver Lake, Glassell Park, Eagle Rock, Highland Park, Mount Washington, Monterey Hills, El Sereno, Chinatown, Echo Park, Westlake, Hancock Park, Park La Brea, Mid-Wilshire, Country Club Park, Koreatown, Los Angeles, Lincoln Heights, Boyle Heights, City Terrace, West Adams, Central, East Los Angeles, City of Commerce, Vernon, Maywoo, Crenshaw, View Park, Baldwin Hills, Windsor Hills, Huntington Park, Morningside Park, Florence, Walnut Park, Cudahy, Watts, Athens, South Gate Lynwood, Hollydale, Paramount, Lakewood, Rancho Domingues, Compton, Willowbrook Westminster, Midway City, Fountain Valley, Hungtington Harbour, Surfside, Sunset Beach, Huntington Beach, Costa Mesa, Newport Beach, los angeles organ Balboa, Corona Del Mar. Santa Ana, Tustin, Lemon Heights, Cowan Heights, East Irvine, Irvine Anaheim, Anaheim Hills, Anaheim Convention Center, Disneyland, Edison International Fields of Anaheim, Arrowhead Pend of Anaheim, Villa Vista, Santiago Oaks Regional Park, Irvine Regional Park, Orange Park Acres, El Modena, Orange, Garden Grove, Silverado, Cleveland National, Modjeska La Habra Heights, La Habra, Brea, Sleepy Hollow, Olinda, Yorba Linda, Yorba Regional Park, La Palma, Featherly Regions Park, Atwood, Placentia, Cal State Fullerton, Fullerton, La Mirada, Buena Park, Fullerton Municipal Airport, La Palma, Knotts Berry Farm, Stanton, Cypress Trabuco Canyon, Lake Forest, Mission Viejo, Rancho Santa Margarita, Coto de Ceza, San Juan Hot Springs, Cleveland National Forest, Ronald W. Caspers Wilderness Park, San Juan Capistrano, Leisure World, Laguna Hills, Aliso Viejo, Laguna Beach, South Laguna, Laguna Niguel, South Laguna, Laguna Beach, Dana Point, Emerald Bay, Three Arch Bay, San Clemente, Capistrano Beach, San Onofre Newcomb Ranch, Mount Waterman, Hidden Springs, Chilao, Mount Wilson, La Canada Flintridge, Altadena, Pasadena, South Pasadena, Sierra Madre, Arcadia, Monrovia, Bradbury, Duarte, San Marino, Belltown, Highgrove, Pedley, Rubidovx, Edgemont, Sunnymead, Moreno Valley, Woodcrest, Lake Mathews Mira Loma, Glen Avon, Sunnyslope, Bell Sylmar, San Fernando, Mission Hills, North Hills, Northridge, Mission Hills, Pacoima, Panarama City, Northridge, Van Nuys, Encino, Sherman Oaks, North Hollywood, Valley Village, Studio City, Universal City, Sun Valley Porter Ranch, Granada Hills, Northridge, North Hills, Chatsworth, West Hills, Canoga Park, Winnetka, Bell Gardens, Oak Park, Hidden Hills, Reseda, Woodland Hills, Tarzana, Calabasas, Calabasas Highlands, Calabasas Park, Glenview, Monte, Monte Nido, Cornell, Agoura Hills, Agoura, Malibu Junction, Westlake Village, Seminol Hot Springs Manhattan Beach, Hermosa Beach, Redondo Beach, Palos Verdes Estates, Walteria, Rancho Palos Verdes, Rolling Hills Miraleste, San Pedro, Gardena, Torrance, Carson, Dominguez, Wilmington, Harbor City, Lomita. Wheeler Springs, Meinere Oaks, Mira Monte, Ojai, Summit, Sulphur Springs, Santa Paula, Oak View, Casitas Springs, Foster Park, Chrisman, Ventura, Saticoy, Montalyo, El Rio, Nyeland Acres, Camarillo Heights, Camarillo, Somis, Leisure Village, North Fillmore, Filmore, Buckhorn, Piru, Bardsdale, Oznard, Colonia, Port Hueneme, Oxnard State Beach, Mandalay State Beach, McQuinth State Beach, Emma Wood State Beach, Solimar Beach -- donald resor donald r resor jr donald resor jr donald r resor jr allen rodgers baldwin copeman hart ahlborn galanti general music viscount britson makin skinner harris aeolian electronium tracker touch hammond organ organs church repairs services johannus digital parts Leslie tone cabinet speakers rebuilds symphonic carillon chimes worship maas-rowe schulmerich verdin chime masters bells vibrachime vibrachord chronobell magnabell Octane Octave tower clock New hammond organ and leslie store! The hammond store don't let manuel rosales nick or file your organ pipe work Allen Ahlborn Chase Domus Galanti Hammond Johannus Leslie Speaker Rodgers and Viscount Organs. Maas Rowe Schulmerich and Verdin Carillons Repair Repairs Service Support don leslie