Tone Wheel and Tone Cabinet Service Company - Carillon and Chimes List

Tone Wheel and Tone Cabinet Service Company

Carillon and Chimes List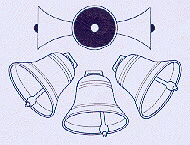 The Mission
By Popular Request the Theatre Organ Home Page announces a mailing list for the exclusive/inclusive use of Cast Bell Carillon Systems, Amplified Chime & Carillon Systems, such as:
Deagan Chimes, Deagan Tower Chimes, Canto-Chime 50RC-10, 55RC-10, 58RC-10 and 53RC-10. Trinity Chimes 3621, 4621, 4621A, 5621, 5621-I, 5621-OB, 6621, and 7621. The New World Carillon.
Mayland Solid brass and Solid Aluminum Chimes.
Maas, Maas-Rowe, Amplifiers 50A, 50R and 500A, Chronobell® Systems 529 B, 569 B, 579 B, 589 B, 599 B, Carillonette®, Chronobell Systems DCB1, DCB2, DCB3, Memory Player/Recorder Systems MPR1, MPR2, Symphonic Carillon, Grand Symphonic Carillon, Console-Carillon®, Cathedral Chime®, Carillon, Vibrachord®, Harp Celeste, Minor Bells, Dulce, Muted Harp Bells, Orchestral Bells, Vibrachime® and Sanctus Bell Campana Liturgica®.
Schulmerich, Magnebell, TymeStryke®, Arcadian, Arlington, Americana, Coronation,
Generation 4 (g4), Auto-Bell® , True Cast® , Embassy®, Campanile®, Memorial Bells, Novabell, Flemish Bells, English Bells, Harp Bells, Quadra Bells, Aeolian Bells, Campana Bells, Celetial Bells, Bourdon Bells, Celesta Bells, Baroque Bells, Angelica Bells, Minor Tierce Bells, and Gothic Bells.
Stromberg-Carlson Liberty Carillons "There is nothing finer than a Stromberg-Carlson": LA-11, LA-11-50 and LA-11-100 Automatic Swinging Church Bell. LA-81, LA-81-50, LA-81-100, LA-81-101 and LA-81-200 Automatic Eight-Bell Unit. LB-11, LB-11-25, LB-11-50, and LB-11-100 Semi-Automatic Swinging Church Bell. LC-251 LC-251-50, LC-251-100, LC-251-101 and LC-251-200 Twenty Five Bell Liberty Carillon. LC-381, LC-381-100, LC-381-101, LC-381-200 and LC-381-400 Thirty Eight Bell Liberty Carillon, LT-1 Timer, and LT-2 Automatic Player Timer.
I.T. Verdin (The Verdin Company), 300 Series, 340, 600 Series, 680, Paramount, Alpha Series, Alpha II Series, Century III, Century V, Concerto, Performer, Singing Tower Classic, Town Cryer and Symphony. Operation, technical information, sources of parts, recorded music on tape or CD for Automated Chime Systems, documentation (books on the subject) and the playing technique of a Carillon by a Carillonneur.
Van Bergen, Flemish Master, Renaissance, and Multi-Voice.
Cast Bell Carillon Manufacturers such as Petit & Fritsen Royal Bell Foundry, I. T. Verdin, Schulmerich, and Maas-Rowe Van Bergen etc.
Discussion about the playing of Carillon or Chimes along with Church Organ is also encouraged.
If it is associated with Cast bell Carillons and/or electronic Carillon/Chime systems from manufacturers such as I.T. Verdin, J. C. Deagon, Maas & Maas-Rowe, Schulmerich, Stromberg-Carlson, Tape-A-Thon, Earle J. Beach & Son, etc. as well as 'Change Ringing' and Handbells, it falls within the scope of this user group.
To post to the List, send your post to:
click here
To Subscribe to the list, you simply issue commands to the automated ListServer as follows below.
Helpful Hint
To keep track of all the mailing lists you may subscribe to, in an orderly fashion, we recommend that you maintain several E-Mail accounts. These can be obtained free from various places such as TheatreOrgans.com. We then suggest you sign up one name to one list. For example, if you subscribe to the , the PipeChat-L list and the Carillon-L list, it may be helpful to have 4 email accounts. The first, is your regular EMAIL account, which you don't want polluted with posts from anywhere. Just private email, so when you log on you have your email there.
Notice:
More recent problems with AOL and it's spam policy have put a halt to accepting ANY subscriptions using AOL email address. Our list is provided by the graciousness of Jerrell Kautz of www.theatreorgans.com. To quote Jerrell in a global email:
"Thanks to donnear@aol.com who reported over 30 posts to AOL as spam yesterday while I was out of town, we will no longer be able to serve AOL users at all on either the classifieds ads or this list (Theatreorgans-L). If you have an AOL address, you need to get it switched to something in the real world immediately. We are told if we have any more spam reports our ISP will disown us and we'll have no server to be on".
If you would truly like to join Carillon-L we suggest you use an alternate email address such as Gmail, Hotmail, etc. or sign up for a PRIVACY FRIENDLY ISP! such as Sonic.net
Then maintain 3 additional separate email accounts. Subscribe to each list under a different account. To really be spiffy, get an email program like EUDORA OSE, Thunderbird or MS Outlook that allows you to read all of your pop3 type email in one program, sorted by folders.
How To Sign Up:
Here are the commands to UNSUBSCRIBE and SUBSCRIBE to the Carillons&ChimeSystems-L mailing list:
To use the commands, simply send the command to
Click Here
with the command line in the message. The subject is ignored.
Subscribe Carillon-L [address]
The originator is added to the membership of Carillon-L. If an optional address is specified after the list name then that address is added to the list's membership rather than the address found in the FROM: field of the subscription message.
Ex: SUBSCRIBE Carillon-L
Ex: SUBSCRIBE Carillon-L me@mydomain.com
Unsubscribe Carillon-L
or
Signoff Carillon-L
The originator is removed from the membership of the Carillon-L list.
Ex: UNSUBSCRIBE Carillon-L
Ex: SIGNOFF Carillon-L me@mydomain.com
Digest Carillon-L
The originator is configured to receive mail from "list" in digest format.
Ex: DIGEST Carillon-L
Normal Carillon-L
The originator is configured to receive mail from the list in standard (non-digest) format.
Ex: Normal Carillon-L
Ex: Normal Carillon-L joe@mdaemon.com
The Rules of Conduct
1. Introduce yourself. It's a great way to make friends
2. Use of appropriate humor is ALWAYS encouraged.
3. Be polite to the other people on the list. Just because you may not share the same view point
with someone else doesn't mean you need to start a war.
4. Being open minded is the key to getting along with others.
5. Keep things on topic. If you wander off the topic of the list, please keep it interesting & humorous
at the very least.It may keep you from getting flamed.
6. If you have a problem with another list member, don't take action yourself. Let the mean and
grumpy list administrators take care of it. Do not flame his/her members via the list. This list
is for friendly folks not old grumps. Only the list administrators are allowed to be crotchety.
7. When replying to a previous post, please delete what is not important to what you are saying as
best you can. In other words, quote only what is relevant to what your post is about. There's
nothing more discouraging then scrolling through 2000 words of a previous post before we get
to what you have to say.
8. If your are trying to sell something (i.e. an instrument) by using the list as a means of
advertising...Although there are more appropriate places to do that such as the
Theatre Organ Classifieds. All we ask is that extensive transactions between two (or
more)individuals remain private. If telling everyone may save an instrument (especially a
historic one), by all means post away.
9. Do post about concerts and other important events. Just keep them brief and to the point.
Do post about the size of your organ and any hints and kinks you have ran into in the past.
10. Any Problems with the servers will be fixed as soon as we know what the problem is (and how
to fix it). Just be patient if such a problem occurs.
11. Last But NOT least, HAVE FUN and share your experiences. That's what the list was created for.

Key Words: Aphex Aural Exciter Big Bottom Channel Optical Big Bottom Headpod 4 Compeller 320D IN2 IN 2 120B Distribution Amp 124B - Two Channel Level Interface 141B Eight Channel D to A Chase Organs Willis Chase Lancaster California Westchester Studio City Long Beach Riverside San Bernadino Hollywood North Hollywood West Hollywood, Bel Air, Westwood Century City, Brentwood, Castellammare, Pacific Palisades, Ocean Park Norco, Home Gardens, Corona, El Cerrite, Glen Ivy Hot Springs Rancho Park, Cheviot Hills, Palms, Culver City, Mar Vista, Venice, Marina Del Rey, Playa Del Rey Bell Gardens, Downey, Santa Fe Springs, Pico Riveria, Whittier, East Whittier, La Habra, Norwalk, Bellflower, Cudahy Alhambra, San Gabriel, South San Gabriel, El Monte, Monterey Park, South El Monte, Rosemead, Montebello, Pico Rivera, East Los Angeles. Sunland, Tujunga, La Crescenta, Burbank, Verdugo City, Montrose, Glendale Bradbury, Monrovia, Duarte, Asusa, Glendora, Citrus, Irwindale, Vincent, Charter Oak, Covina, Baldwin Park, West Covina, West Puente Valley, Basset, Valinda, City of Industry, Walnut, South San Jose Hills, Hacienda Heights, Rowland Heights Niland, Calipatria, Elmore, Kane Spring, Westmoreland, Alamorio, Brawley, Imperial, El Centro, Holtville, Meloland, Date City, Plaster City, Dixieland, Seeley, Heber, Mount Signal, Calexico, Calexico International Airport, Bonds Corner Keenbrook, Lytle Creek, Verdermont, Muscoy, Fontana, Rialto, San Bernadino, Cal State San Bernadino, Arrowhead Springs, San Manuel Indian Reservation, Patton, East Highland, Highland, Colton, Bloomington, Crestmore, Grand Terrace Cerritos College, Cerritos, North Long Beach, Lakewood, Artesia, Bixby Knolls, Hawaiian Gardens, Long Beach Airport, Los Alamitos, Signal Hill, California State Long Beach, Rossmoor, Long Beach, Seal Beach, Leisure World, Belmont Shore, Naples, Westminster, Edinger, Seal Beach, Orange Co. Mount Olympus, Hollwood Atwater Village, Los Feliz, Silver Lake, Glassell Park, Eagle Rock, Highland Park, Mount Washington, Monterey Hills, El Sereno, Chinatown, Echo Park, Westlake, Hancock Park, Park La Brea, Mid-Wilshire, Country Club Park, Koreatown, Los Angeles, Lincoln Heights, Boyle Heights, City Terrace, West Adams, Central, East Los Angeles, City of Commerce, Vernon, Maywoo, Crenshaw, View Park, Baldwin Hills, Windsor Hills, Huntington Park, Morningside Park, Florence, Walnut Park, Cudahy, Watts, Athens, South Gate Lynwood, Hollydale, Paramount, Lakewood, Rancho Domingues, Compton, Willowbrook Westminster, Midway City, Fountain Valley, Hungtington Harbour, Surfside, Sunset Beach, Huntington Beach, Costa Mesa, Newport Beach, los angeles organ Balboa, Corona Del Mar. Santa Ana, Tustin, Lemon Heights, Cowan Heights, East Irvine, Irvine Anaheim, Anaheim Hills, Anaheim Convention Center, Disneyland, Edison International Fields of Anaheim, Arrowhead Pend of Anaheim, Villa Vista, Santiago Oaks Regional Park, Irvine Regional Park, Orange Park Acres, El Modena, Orange, Garden Grove, Silverado, Cleveland National, Modjeska La Habra Heights, La Habra, Brea, Sleepy Hollow, Olinda, Yorba Linda, Yorba Regional Park, La Palma, Featherly Regions Park, Atwood, Placentia, Cal State Fullerton, Fullerton, La Mirada, Buena Park, Fullerton Municipal Airport, La Palma, Knotts Berry Farm, Stanton, Cypress Trabuco Canyon, Lake Forest, Mission Viejo, Rancho Santa Margarita, Coto de Ceza, San Juan Hot Springs, Cleveland National Forest, Ronald W. Caspers Wilderness Park, San Juan Capistrano, Leisure World, Laguna Hills, Aliso Viejo, Laguna Beach, South Laguna, Laguna Niguel, South Laguna, Laguna Beach, Dana Point, Emerald Bay, Three Arch Bay, San Clemente, Capistrano Beach, San Onofre Newcomb Ranch, Mount Waterman, Hidden Springs, Chilao, Mount Wilson, La Canada Flintridge, Altadena, Pasadena, South Pasadena, Sierra Madre, Arcadia, Monrovia, Bradbury, Duarte, San Marino, Belltown, Highgrove, Pedley, Rubidovx, Edgemont, Sunnymead, Moreno Valley, Woodcrest, Lake Mathews Mira Loma, Glen Avon, Sunnyslope, Bell Sylmar, San Fernando, Mission Hills, North Hills, Northridge, Mission Hills, Pacoima, Panarama City, Northridge, Van Nuys, Encino, Sherman Oaks, North Hollywood, Valley Village, Studio City, Universal City, Sun Valley Porter Ranch, Granada Hills, Northridge, North Hills, Chatsworth, West Hills, Canoga Park, Winnetka, Bell Gardens, Oak Park, Hidden Hills, Reseda, Woodland Hills, Tarzana, Calabasas, Calabasas Highlands, Calabasas Park, Glenview, Monte, Monte Nido, Cornell, Agoura Hills, Agoura, Malibu Junction, Westlake Village, Seminol Hot Springs Manhattan Beach, Hermosa Beach, Redondo Beach, Palos Verdes Estates, Walteria, Rancho Palos Verdes, Rolling Hills Miraleste, San Pedro, Gardena, Torrance, Carson, Dominguez, Wilmington, Harbor City, Lomita. Wheeler Springs, Meinere Oaks, Mira Monte, Ojai, Summit, Sulphur Springs, Santa Paula, Oak View, Casitas Springs, Foster Park, Chrisman, Ventura, Saticoy, Montalyo, El Rio, Nyeland Acres, Camarillo Heights, Camarillo, Somis, Leisure Village, North Fillmore, Filmore, Buckhorn, Piru, Bardsdale, Oznard, Colonia, Port Hueneme, Oxnard State Beach, Mandalay State Beach, McQuinth State Beach, Emma Wood State Beach, Solimar Beach -- donald resor donald r resor jr donald resor jr donald r resor jr allen rodgers baldwin copeman hart ahlborn galanti general music viscount britson makin skinner harris aeolian electronium tracker touch hammond organ organs church repairs services johannus digital parts Leslie tone cabinet speakers rebuilds symphonic carillon chimes worship maas-rowe schulmerich verdin chime masters bells vibrachime vibrachord chronobell magnabell Octane Octave tower clock New hammond organ and leslie store! The hammond store don't let manuel rosales nick or file your organ pipe work Allen Ahlborn Chase Domus Galanti Hammond Johannus Leslie Speaker Rodgers and Viscount Organs. Maas Rowe Schulmerich and Verdin Carillons Repair Repairs Service Support don leslie